INDIGO SUTRA an international event on the revival and resurgence of natural indigo.
INDIGO SUTRA was a landmark event that took place in Kolkata from 9-18 November 2017 to celebrate Indigo, the worlds oldest, most widely used and unique dyestuff and the only natural blue dye which takes its very name from 'India'.
Comprising a seminar, workshops, demonstrations, exhibitions, documentary films, bazaar and textile tours, it attracted people from all over India and from every continent in the world.
The idea was to create awareness of reviving the cultivation of indigo in Bengal and other places where it had stopped due to political unrest or other reasons and also to encourage the use of natural indigo dyeing using natural methods.
reviews of INDIGO SUTRA
It was an honour to get reviewed by Ms Avalon Fotheringham, Curator for South Asian Textiles at the Victoria and Albert Museum, London.
"Indigo Sutra has brought together artists, designers, scientists, historians, manufacturers, agriculturalists and more all united by their passion for indigo. The event has been truly multidisciplinary, ranging from engaging panel discussions to sumptuous fashion shows. The Sutra team have considered every detail right down to the hand made indigo-dyed delegate bags. Two exhibitions telling both historic and contemporary stories of indigo have been beautifully curated and showcase spectacular work, while the Grand Bazaar features some of the best artisans practicing in India today. A range of hands-on workshops and demonstrations in combination with tours to actual makers' studios rounds out the event with practical experience, while evening celebrations have given delegates the opportunity to share their work with fellow indigo advocates from all around the world. The event has been an incredible success - thanks to Sutra for such an educational and inspiring experience."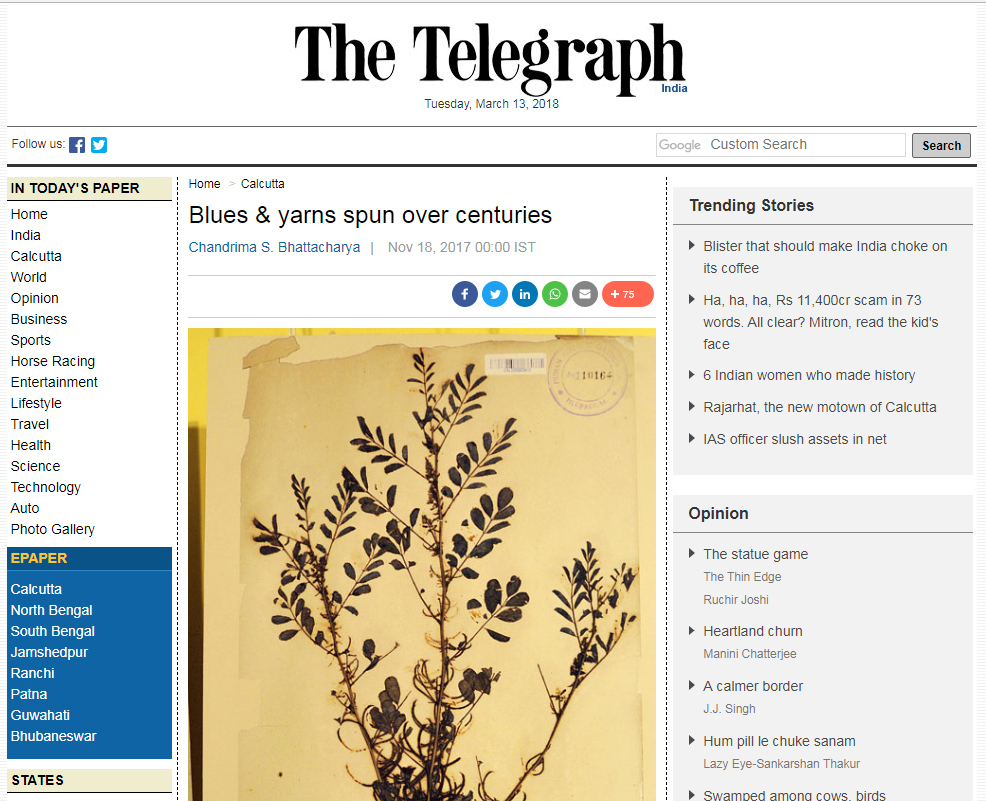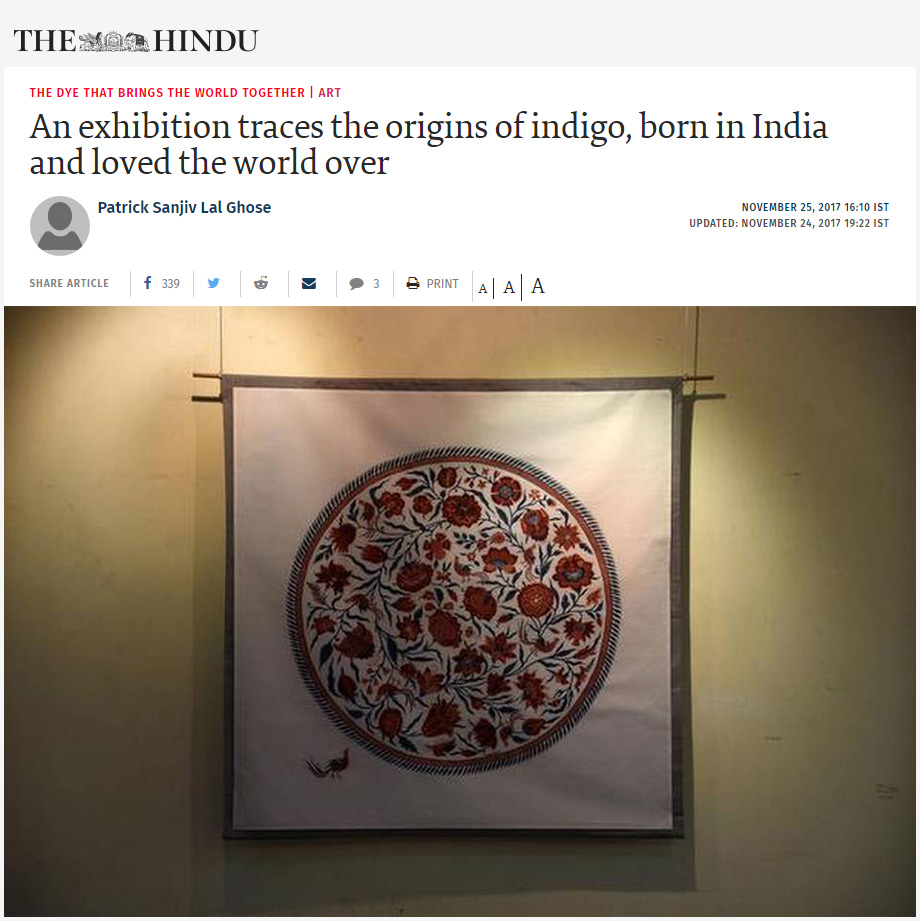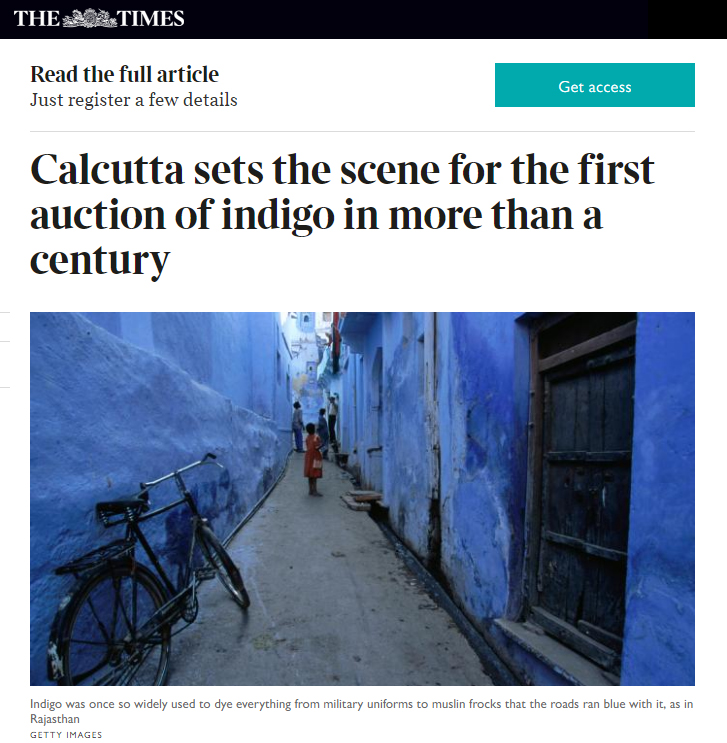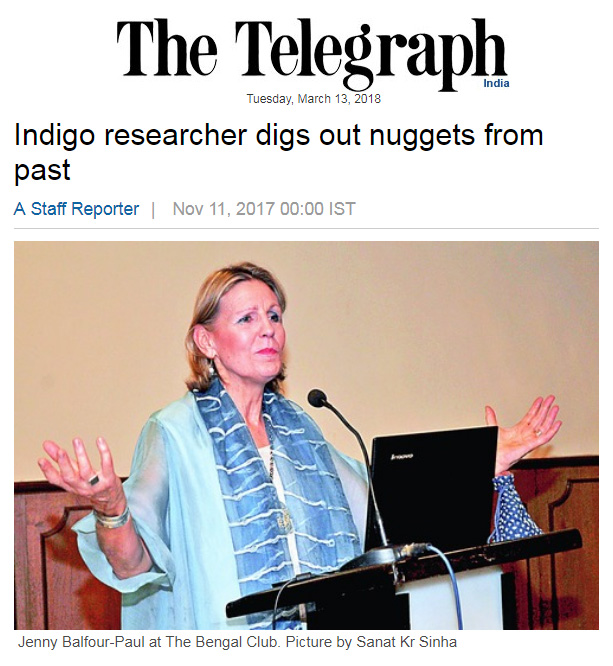 INDIGO SUTRA
INDIGO SUTRA held in Kolkata from 9- 18 November 2017 was organised to celebrate Indigo, the world's oldest, most widely used and unique dyestuff, and the only natural blue dye. It takes its very name from 'India'.
Indigo, grown and used for millennia in the Subcontinent, was also a major export. It almost died out in the later 19th and early 20th century, due to peasant revolts against forced cultivation and the discovery of synthetic indigo in Germany. One aspect of Indigo's fascinating story is its role in Gandhi's road to Independence.
There is a widespread upsurge of interest in indigo, both in India and worldwide. The time is ripe to revive its cultivation and manufacture in Northern India and elsewhere. A soil enriching plant, it also has medicinal and insect repellant properties along with a host of other environmental benefits.
The increasing awareness of using organic products in a highly polluted world has led to the current desire to use sustainable indigo for clothing and other textiles. INDIGO SUTRA was a milestone project, using expertise and guidance of top scholars, academics and practitioners of indigo from across the world.
The event focused on the production and use of natural indigo, with seminars, exhibitions, demonstrations, workshops, discussion forums, documentary film shows, sale of indigo based textile and other products. Optional excursions to weaving and dyeing centres and other places of interest were organised.
INDIGO SUTRA was held at ICCR, Indian Council for Cultural Relations, 9A, Ho Chi Minh Sarani, Kolkata 700071 from
9th - 18th November, 2017.
The event comprised seminar, workshops on indigo dyeing, demonstrations, exhibitions, films and Grand bazaar. There were optional textile tours before and after the seminar.
SEMINAR - Satyajit Ray Auditorium, ICCR - 9 & 10 November
DEMONSTRATIONS - ICCR - 9 & 10 November
THE GRAND BAZAAR - Bengal Gallery, Sculpture Court and Abanindranath Gallery, ICCR - 9 ,10,11 November
EXHIBITIONS - Nandalal Bose Gallery and Jamini Roy Gallery, ICCR - 9-18 November
WORKSHOPS - J. D. Birla Institute 11 & 12 November
INDIGO SUTRA Programme
SEMINAR - 9TH AND 10TH NOVEMBER
Following scholars and textile/dye specialists participated at the seminar:
INDIGO SUTRA SEMINAR SCHEDULE


DEMONSTRATIONS 9TH AND 10TH NOVEMBER AT ICCR


WORKSHOPS - 11TH AND 12TH NOVEMBER
Workshops on Natural indigo (some combined with other natural dyes) and textile techniques were organised.
Venue of the Workshop:

WORKSHOPS WERE HELD IN CONJUNCTION WITH
J. D. Birla Institute of Sciences
11 Lower Rawdon Street,
Kolkata-700020.
TUTORS INCLUDED FOR:
Indigo Vat making and dyeing
Surface Decoration
INDIGO SUTRA WORKSHOPS DETAILS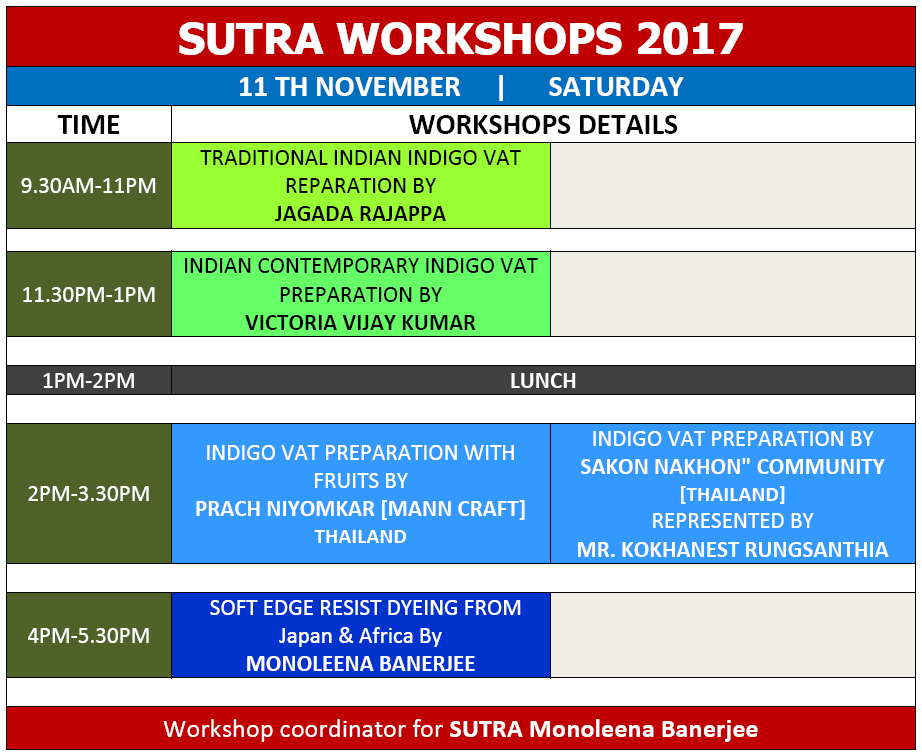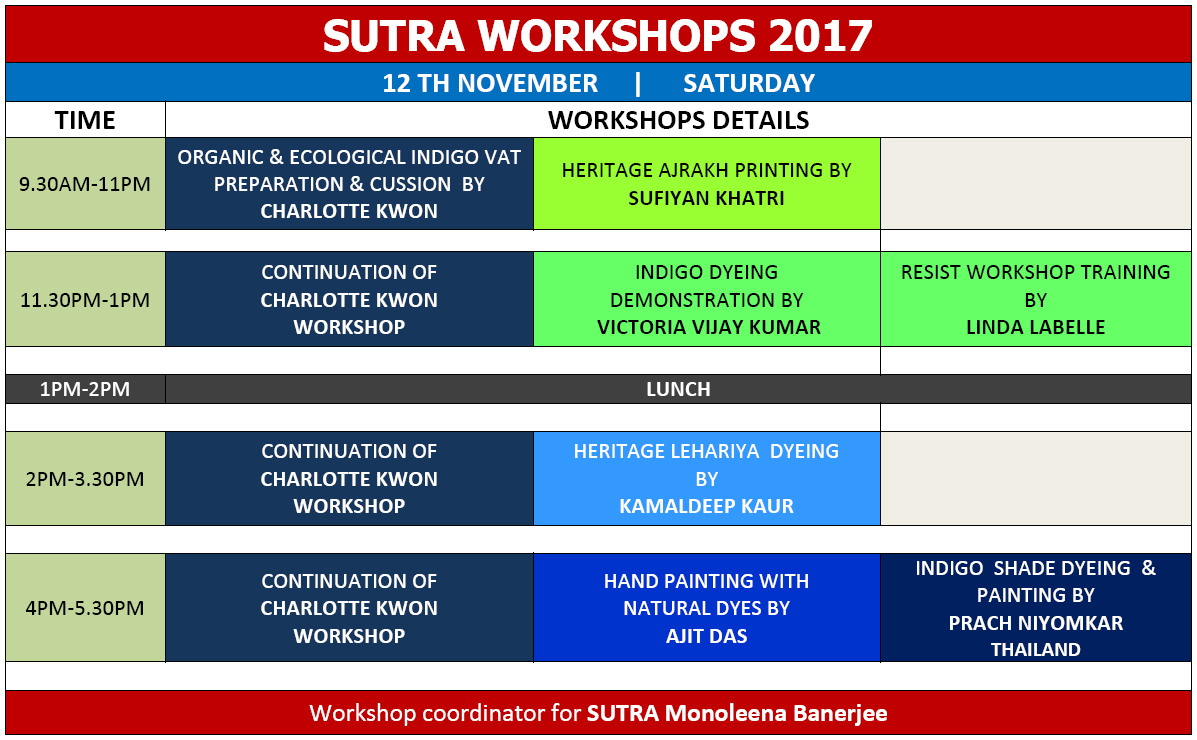 EXHIBITIONS
Two EXHIBITIONS were curated by Simon Marks and assistant curator Emma Ronald
Neel Sutra
Something Old
something New
something Borrowed
something Blue
Indigo has been produced and traded globally for thousands of years, and since the late 18th century nowhere more so than in Bengal.
Exploring its tainted past in Bengal, this exhibition highlighted the current resurgence of Indigo and promoted its viability as a non-exploitatitve commodity that is economically, artistically, socially and commercially sustainable.
Neelambari
A collection of contemporary works celebrating the rich diversity and artistic expressions of Indigo.
Auction Notice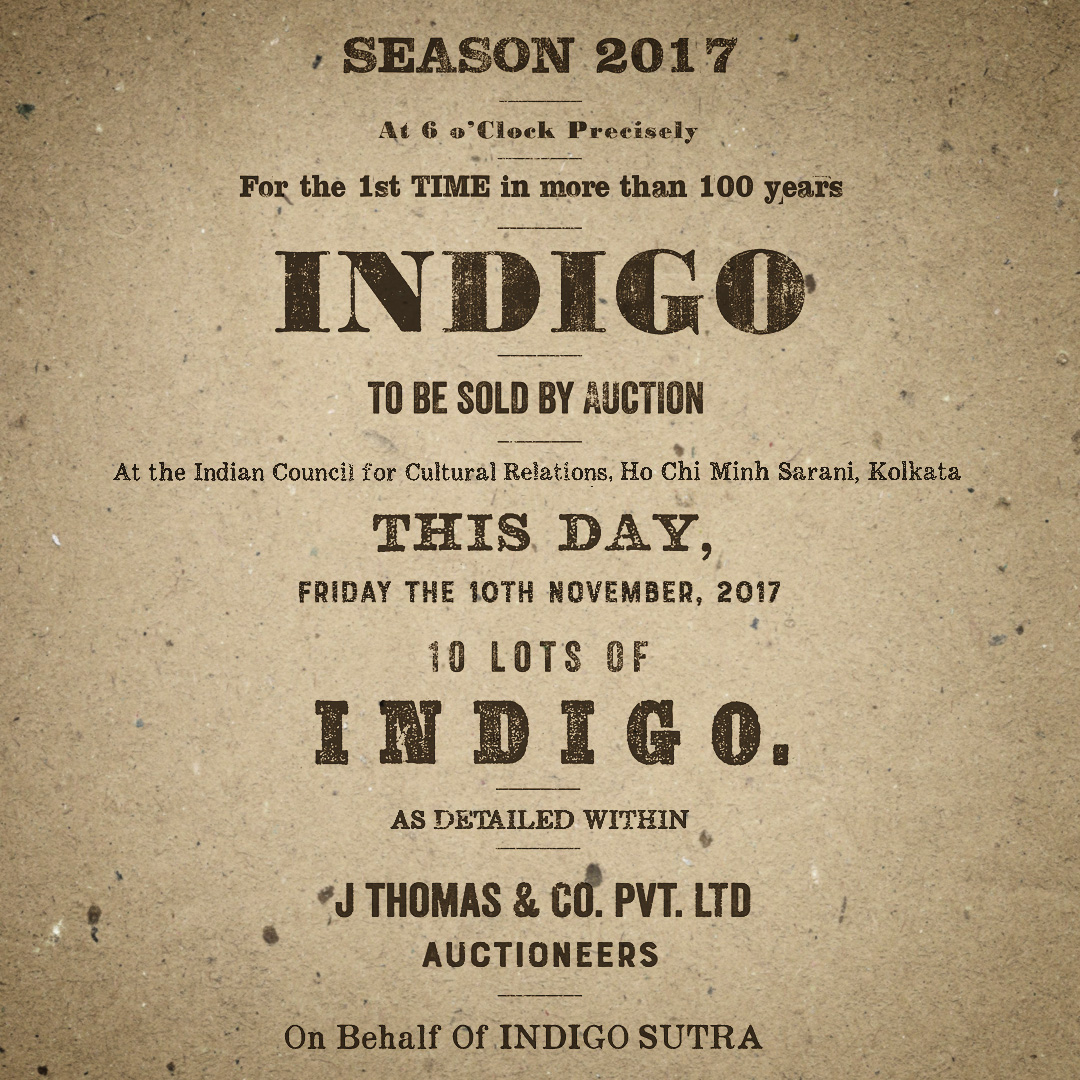 THE GRAND BAZAAR
Aavaran Udaipur
ALAMWAAR
Aranya Naturals
ASAL
AVANI
By Loom
TARANGA SHIBAPRIYA
DESHAJ
Divya Sheth
Elan
HARIDRA
Hind Natural Dyes
Indigo Eth
INDIGO GUATEMALA
JOHN GILLOW
JAYPORE
Neelgar Kamaldeep Kaur
KAPAAS KOLKATA
Karomi
KASHMIR LOOM
LIVING BLUE
LOVE FOR THE LOOM
Maku
Malkha
MURA COLLECTIVE
NATURALLY ANURADHA
MEI RAMEW WEAVES
Nirupama Academy
PANKAJA SETHI
Papri Textiles
Parbat Kanji Vankar
PAROMITA BANERJEE
PEOLI
PRACHEEN
ROLI BOOKS
Royal Brocade
RWITVASTRA
Saanchi Siddhi Creations
SAFI CRAFTS FROM THE HEART OF JORDAN
Sasha
Shamji Vankar
Sidr Craft
SIMON MARKS
SOHAM DAVE
SREE DEVI HANDLOOMS
SRI GOVIND ARTS BAGRU
SUFIYAN KHATRI
VRIKSH
WEAVERS AND DESIGNERS
WEAVERS STUDIO
SUTRA SHOP
TOURS & TRAVEL
Sutra Textile Tour – Main Tour
PHULIA | MAHESHGANJ | KALNA | SANTINIKETAN
PHULIA
DETAILS OF THE TOUR
DAY 1
6th NOVEMBER 2017 - MONDAY KOLKATA – PHULIA – MAHESHGANJ
After an early breakfast in Kolkata ( from 06.00 - 07.00 ) we will drive for about 3 hours to Phulia for Tangail jacquard weaving and Jamdani work, visit a traditional sari shop owned by a national Jamdani award winner and learn about different techniques. We will also see indigo dyeing of yarn and yardage.
Phulia specialises in a combination of jacquard and jamdani work while Shantipur is known for superfine dhotis and jacquards. Shantipur – Phulia region has over 125,000 handlooms, producing Shantipuri, Tangail, and Jamdani handloom sarees with a variety of cotton, tussar and silk yarns.
We will then drive to Balakhana Estate in Maheshganj for lunch, which earlier used to be an indigo planter's bungalow. The rest of the afternoon is left open to walk around the gardens and the nearby river, or to simply relax on the verandah with a cup of tea.
Overnight – Balakhana Bungalow
Meals – Lunch and Dinner
DAY 2
7th NOVEMBER 2017 - TUESDAY MAHESHGANJ – KALNA – Santiniketan
After an early breakfast ( from 07.00 - 08.00 ) we will drive to Kalna to see the finest jamdani weaving.
We will then drive to Santiniketan which will take approximately 3 and half hours, stopping en route at Saktigarh for lunch. In Santiniketan we will meet the 'kantha' workers from nearby villages.
Overnight – The La Sonajhuri or The Garden Bungalow
Meals – Breakfast, lunch and dinner
DAY 3
8th NOVEMBER 2017 - WEDNESDAY Santiniketan – KOLKATA
After breakfast ( from 08.00 - 09.00 ) we will go to see a natural dye workshop with a local artist. We will then go and see the process of batik resist.
After lunch we will visit a local pottery workshop and other places of interest in Santinikitan. We will then drive back to Kolkata.
Overnight – Own arrangements
Meals – Breakfast and lunch
Tour Cost – INR 13500/- all-inclusive per person for a twin sharing basis for 8 – 15 persons
** Triple sharing reduction INR 900/- per person
NOTE – TOUR WILL BE OFFERED AGAIN ON THE 13th, 14th, & 15th of NOVEMBER 2017
Included :
Accommodation for two nights on full board basis
A knowledgeable textile tour leader
Air conditioned Tempo Traveler for transportation
Meals as per itinerary
Workshops as mentioned in the program
Taxes
NOT INCLUDED :
Personal expenses
Medical costs, gratuity, beverages, water etc. over dinner, alcohol, laundry
SUTRA TEXTILE TOUR – Santiniketan ONLY
DAY 1
11TH NOVEMBER 2017 SATURDAY KOLKATA – Santiniketan
After an early breakfast ( from 07.00 - 08.00 ) we will drive to Santiniketan which will take approximately 3 and half hours, stopping en route at Saktigarh for lunch. In Santiniketan we will meet the 'kantha' workers from nearby villages.
Overnight – The La Sonajhuri or The Garden Bungalow
Meals – Lunch and dinner
DAY 2
12TH NOVEMBER 2017 SUNDAY Santiniketan – KOLKATA
After breakfast ( from 08.00 - 09.00 ) we will go to see a natural dye workshop with a local artist. We will then go and see the process of batik resist. After lunch we will visit a local pottery workshop and other places of interest in Santiniketan.
We will then drive back to Kolkata.
Overnight – Own arrangements
Meals – Breakfast and lunch
Tour cost INR 9500 all inclusive per person on twin sharing basis for 8-15 persons
Included :
Accommodation for one night on full board basis
A knowledgeable textile tour leader
Air conditioned Tempo Traveler for transport
Meals as per itinerary
Workshops as mentioned in the program
Taxes
Not Included :
Personal expenses
Medical costs, gratuity, beverages, water etc. over dinner, alcohol, laundry
Please contact Mr Avijit Sarkhel directly:
Desk Phone: +91-11-47512262
Mobile Phone: +91-981 833 0707
Contact Email: vana@vanasafaris.com
Website: www.vanasafaris.com
** All tour photographs are courtesy Dr Jenny Balfour Paul. **